KHAMMAM DISTRICT
Rivers that flow through the Khammam district are the Godavari, Sabari, Kinnerasani, Munneru, Akeru and Vaira rivers. The Godavari flows southeast 181 kms in this district and crosses the district at Kolleru. Sabari is an important tributary of Godavari. Another tributary of Godavari is Kinnerasani. Munneru flows towards Krishnapuram in Nasaraopeta Taluq. Paderu river originates in Janya Taluq and flows parallel to Munneru. Akeru is tributary to Munneru. Vaira also is a tributary of Munneru.
GUNDLAVAGU PROJECT
This is an ongoing medium irrigation project across Gundlavagu, a minor tributary of Godavari river near Pragallapally (v) Wazeedu (M) Khammam district benefiting an ayacut of 2600 acres. The work on the project was started in 1976-77 and the earth dam was completed in 6/1979. The reservoir received water in 6/1979. Due to heavy seepage in bed, the reservoir was depleted completely within three days.
The Government in G.O. Ms. No.717 Dated 14-6-1997 constituted a committee, which has suggested further remedial measures and they are being carried out from time to time.
DUMMUGUDEM MULTIPURPOSE PROJECT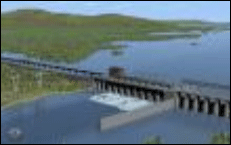 The scheme is proposed at about 1.50 Km. u/s of Dummugudem anicut on right side, near Pamulapally (v). The scheme proposes to lift Godavari Water to upland, back ward and remote areas for irrigating 91,108 acres in Aswapuram, Burgampad, Paloncha, Tekulapally, Kothagudem, Julurpad, Enukur, Kallur, Penuballi and Sathupalli Mandals of Khammam district with an utilisation of 5.26 TMC.
The Scheme contemplates lifting of water to a total height of 115 metres in 7 stages, which require 30.50 M.W. of power. These 7 stages are connected by a gravity canal of length 126.40 Km. There are 2 existing balancing reservoirs enroute canal. The contemplated power generation was estimated at 352 M.W. The issue was referred to A.P. GENCO to study the feasibility of the power generation. The A.P. GENCO has studied the feasibility of power generation at the site of Anicut and informed that there is a possibility of generating only 352 M.W. of power.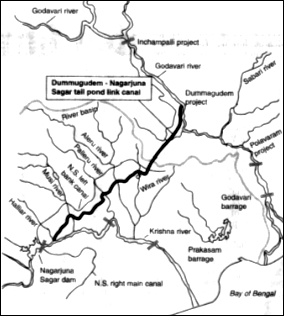 The scheme comprises of the following works:
1. Intake pump house on Godavari right bank u/s of Dummugudem Anicut near Pamulapally (v).
2. Improving the existing Krishna sagar, Singabhupalem tanks to serve as balancing reservoirs for one-week storage.
3. Construction of Pump houses and storage reservoirs at 7 stages (including one at intake).
4. Excavation of gravity canal for a length of 126.40 Km in between Pumping stages and upto Sathupalli.
5. Aqueducts across Domalavagu, Kinnerasani river, Murreduvagu, Nallavagu and Lothuvagu.
6. Railway bridges on Manuguru - Bhadrachalam and Dornakal -Bhadrachalam Railway lines.
7. 'A' class bridges on Major district roads 5Nos.
8. Distributory system for the new ayacut of 91108 acres.
9. CM & CD works on local streams-131 numbers and bridges at every 5 Km interval.
The pump house will be fed through an approach channel from river and it is proposed to have a mixed flow turbine pumps to lift water to feed to the canal. The pumps will be located just above the intake chamber, which is protected with trash rack arrangement to eliminate any solid material entering into pump house. The gravity canal runs in between two successive lifts for 126.40 Km length and is divided into seven reaches depending on the discharge requirements. The alignment of the canal passes through reserve forest for a length of 55.00 Km, and an extent of 1800 acres of reserved forest is to be acquired.
PALEMVAGU PROJECT
Palemvagu medium irrigation scheme is proposed across Palemvagu, a minor tributary of Godavari river near Mallapuram (V), Venkatapuram (M), Khammam district. The scheme is intended to irrigate an ayacut of 10,100 acres during Kharif and 2025 acres during Rabi besides providing drinking water facility to 39 villages in Venkatapuram (M). Palemvagu is classified as a tribal scheme.