WEST GODAVARI DISTRICT
JALLERU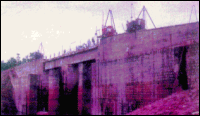 | | |
| --- | --- |
| Location | The scheme is constructed across Jalleru a tributary to Yerrakalva near Aliveru village of Buttayagudem Mandal which is 25 kms from Jagareddigudem. |
| Ayacut | Ayacut proposed under the project is 4,200 acres (1700 hectares) |
| Mandals Benifited | Buttayagudem |
| Estimated Cost | Rs. 8.742 crores |
| Benifit Cost Ratio | 3.92 |
| Cost per Hectare | Rs. 51,424 |
| Catchment Area | Free 18.80 Sq miles (48.18 Sq Kms) |
| Dependable Net Yeild | 591 M.cft (16.74 Mcum) |
| Utilization | 378 M.cft (10.70 Mcum) |
| Maximum Flood Discharge | 12,300 Cusecs (339.80 cumecs) |
| Canals | Right Main Canal |
| Length | 6.09 Kms. |
| Ayacut | 4200 acres |
| Cropping Pattern | Tobaco, Chillies, Rabi, I.D. Crops |
| Villages Benifited | 1. Doramamidi 2. Buttayagudem |
YERRA KALAVA RESERVOIR PROJECT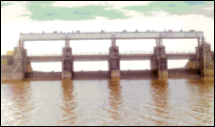 Yerrakalva reservoir project is a flood moderation cum medium irrigation scheme across Yerrakalva near Konguvarigudern Village in Jangareddigudem mandal of West Godavari district to create an irrigation potential of 24,700 acres benefiting 22. villages, in 6 mandals in upland area of West Godavari District. The original cost of the project is Rs.10.40 crores with SSR 1976-77. The scheme was commenced during the year 1977-78. All the head works and left canal of the project were almost completed by 1988.
POLAVARAM PROJECT
The Polavaram Project is proposed on River Godavari near Polavaram (v) West Godavari district i.e., 42 Kms u/s of Sir Arthur Cotton Barrage, Dowlaiswaram. The Project envisages to provide irrigation facilities to an extent of 7.19 lakh acres (i.e. 4.00 lakh acres under left main canal and 3.19 lakh acres, under right main canal) in Visakhapatnam, East Godavari, West Godavari and Krishna districts. Power generation of 720 MW, diversion of 80 TMC of waters to Krishna Basin, providing water supply to Vizag city and industries and to villages enroute also proposed in the scope. The project involves submergence of 1.01 lakh acres of land in its foreshore and displacement of 28,126 families in 293 villages.
Polavaram is a major project on the Godavari River named after the closest town in West Godavari district of Andhra Pradesh. It is estimated to cost some Rs 9,265 Crores ($2,131 million) but recently the Chief Minister put this as high as 20,000 Crores ($4,590 million). The Polavaram project, which is now proposed to be implemented with certain modifications, was conceived more than 50 years back. Its design is outdated and does not fully take into consideration the damage likely to be caused to the ecology, environment, wild life and human habitations and many changes that have taken place in the society over the years.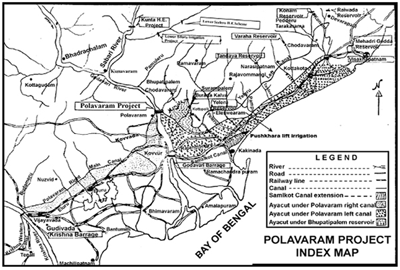 The central part of the Polavaram project is the barrage constructed straight across the Godavari River some 15 km north of Rajmundhry in East Godavari district. The barrage will be constructed at a level of 150 feet (47 meters) and raise the water along the river stretch upstream in Godavari and several of its tributaries. The submersion will stretch along the Sabari River, a tributary to Godavari, up to the borders of Orissa and Chhattisgarh.
The Right Main Canal will supply of 80 tmcft of water to Budameru in Vijayawada, which opens into Krishna river upstream of Prakasam barrage. In this way the canal will connect the Godavari and Krishna rivers. The 174 km long canal will draw 80 tmcft (226 million m3) of water from the dam site and drop it in to the Krishna. Since the canal is a major one there has also been a proposal to make it navigable for freight boats.
The Left Main Canal is designed to provide water to 12 lakh acres in north coastal districts besides meeting the drinking water needs of urban and rural areas. It will connect with Yeleru Left Main canal to bring water for industrial (Vizag steel plant) and drinking water purposes. It will also supply north coastal districts of Visakhapatnam, Vizianagaram and Srikakulam with irrigation water
KOVVADA KALVA RESERVOIR SCHEME
Kovvadakalva is a local hill stream having its origin in Papi Hills at an altitude of +600 mts in Chinthapalli reserved forest West Godavari district of Andhra Pradesh. A reservoir across Kovvada kalva is proposed near Lakshmi Narayana Devi Peta (LND peta) village in Polavaram mandal for providing irrigation facilities to an ayacut of 17740 acres in Polavaram and Gopalapuram mandals. The scheme also provides drinking water supply to a population of 35,000 in 15 villages enroute the canals.
| | |
| --- | --- |
| 1. Name of the project | Kovvada Kalva Reservoir Scheme |
| 2. Location | L.N.D. peta (Vilage) 19 kms from Polavaram (Mandal) of West Godavari District. |
| 3. Hydrology | |
| 1. Discharge | 630.3 cumecs |
| 2. Length of Earth Dam | 1,599 Mts. |
| 3. Crest width (spill way) | 36 Mts |
| 4. Crest Level | +84.50 Mts |
| 5. M.W.L. | +90.50 Mts |
| 6. D.S.L. | +79.85 Mts. |
| 7. T.B.L. | +93.50 Mts |
| 8. Dead Storage | 0.779 M.cum. |
| 9. Live Storage | 11.581 M.cum. |
| 10. Total Capacity of the Reservoir | 12.36 M.cum. |
| 11. No. & Size of Vents | 3 Nos 10.00 M x 6.00 M |
| 4. Ayacut | 10,316 Acres (4175 Ha) |
THADIPUDI LIFT IRRIGATION SCHEME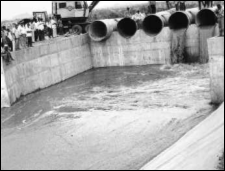 This scheme is proposed to lift 4.61 TMC of water from Godavari river near Thadpudi village, Thadipudi mandal of West Godavari district to facilitate irrigation to an extent of 1.00 lakh acres situated in 77 villages In eight mandals of West Godavari besides providing drinking water facility to 3.00 lakh people. The ayacut is proposed to be served under low level canal and high level canal. The low level canal involves lift of about 10 M. to irrigate 30,995 acres of proposed ayacut under Polavarm right main canal. The high level canal involves lift of about 28 M. to irrigate 68,515 acres of proposed ayacut under Polavaram right main canal.